30 Days of Summer Fun with Kids in Kaunas: Day 3 - Cotton Candy with a View and Open Air Orchestra
30 DAYS SUMMER JOURNAL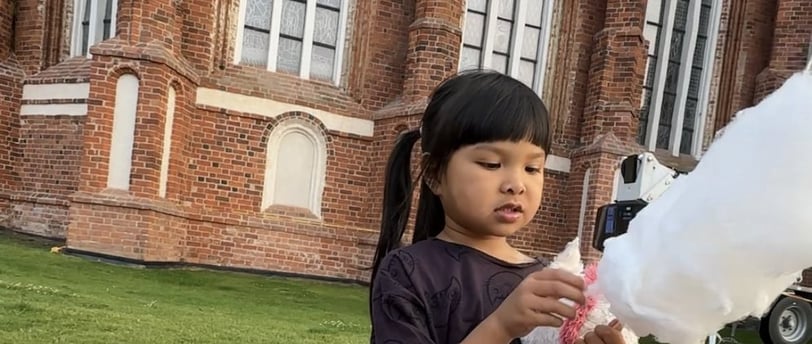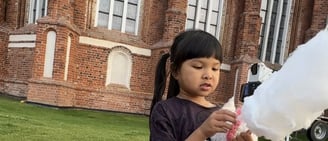 It will be a special day in Kaunas.
In couple of hours, Kaunas (Lithuania, overall) will celebrate its Statehood Day, precisely on 6 July. It is when the Lithuanians celebrate King Mindaugas Coronation as the only king in Lithuania. Dated back to 1253, when King Mindaugas sought baptism by the Roman Catholic Church, after a long way of Pagan life. This marked the Grand Duchy of Lithuania will become the Catholic Kingdom of Lithuania.
In Kaunas, the commemoration of this national day is followed by some musical events, centrally located in Kaunas Castle, Student Square, and Aleksotas. It lasted 2 days, 5-6 July 2023. As the sun was bright and shiny and the weather forecast was in a good mood, we decided to join the crowd for musical orchestra in Kaunas Castle.
The performance began at 20.00 and we were a bit late. The benches were already fully occupied. So we decided to lay on the grass while enjoying through the big screens (not the best position! 😂 but still manageable). This is the advantage of events during summer, we can be seated everywhere.
When we walked by searching for seats, kiddos are suddenly hysteric to see the cotton candy stall.
We promised to buy one for them, but... terms and conditions apply! 😉
Number 1, they must stay calm during the orchestra;
There is no number 2 and number 3, just because we know this point will hardly test their patience 🤫
They finally pass the test and happily get the cotton candy in hand! We back home at about 22.00 and decided to take a walk from Old Town to Laisves Aleja. The kids were happy and became sleepy on the bus. How successful the plan is going on!
How about you, guys? Did you also joining the Kaunas event today? Or any summer agenda for summer in Kaunas that already occupied you with? Let's talk and inspire us some!